Welcome back to "The Confessions of a Random Blogger!"
As we draw dangerously closer to Valentine's Day, many of you might be wondering where this so called 'holiday' actually comes from?
Was it specifically engineered to make every non-coupled up person feel like absolute crap? Is it just a marketing ploy to sell more chocolate and kleenex (for the tears of course)?
I know that this has sort of become a cynical cliché, but don't you find it absolutely terrifying how many 'traditions' and 'holidays' are actually just the product of a board of directors trying to maximise their profits so they could each buy a sports car?
Just me? Okay.
So today I'm going to be giving you guys a bit of a history lesson, about where Valentine's Day actually came from, and how it evolved into us ordering that second pizza after looking at pictures of happy couples on Instagram.
It's okay. We're so happy for them. I mean…in a sort of jealous "I fucking hate you" sort of way. Moving on…
Full disclosure- there is no universally accepted theory as to where Valentine's Day originates, so the story I'm going to be telling you today is just whichever one I found most interesting!
Let's get started!
---
The Bloody Origin Story
Claudius Gothicus, also known as Emperor Claudius II, was the emperor of the Roman Empire from the years 268 to 270 AD.
Affectionately known by the Romans as "Claudius the Cruel," his policies and campaigns were subject to huge amounts of unpopularity and protest.
So one day, the big old softie 'Claudius the Cruel' decided to ban marriage for all young men. No, before you ask, it's not because he wanted them to focus on their careers and invest in mutual funds instead.
He thought that if young, physically-able men got married, this would take their attention away from joining the army and military troops. You would obviously think twice before putting your life on the line if you had a wife at home to take care of right?
So instead of giving these young men the choice of whether they wanted to sacrifice their lives or not, 'Claudius the Cruel' made the incredibly smart, well-thought out decision to ban the entire concept of marriage completely.
However, a priest known as Saint Valentine, opposed this marriage ban, and began performing marriage ceremonies in secret. Where there's a will there's a way right?
It worked out pretty well. At least for a while. Young couples could profess their love for each other with the help of this noble, brave priest. That is, until 'Claudius the Cruel' found out about it. True to his nickname, he sentenced Saint Valentine to death via public execution a la beheading. Class act that Claudius.
Legend has it that while he was imprisoned, he fell in love with his jailer's daughter, even signing his final letter to her "From your Valentine." I guess it explains that tradition.
There's just one more piece left in the puzzle. Why is Valentine's Day on February 14th? Well, you might think that it's because it was Saint Valentine's birthday, or even the anniversary of his first secret marriage ceremony. At least something mushy and sentimental right?
Wrong. That was his execution date.
So the next time your crush doesn't call you on Valentine's Day, don't lose your head over it. Saint Valentine already did! (Really morbid joke- sorry if that's offensive.)
Valentine's Day Cards
According to Hallmark and the Greeting Card Association, approximately 144 million Valentine's Day cards are exchanged every year. It's one of the most popular gift choices. I mean, why actually spend time thinking about a gift when you can buy yet another one of those pre-designed templates of a dog saying "I Love You?"
In our completely commercialised society, we have the luxury of being congratulated and appreciated for buying a store-bought card. However, in the 18th century, they didn't have this option! Pre-designed greeting cards weren't available yet, so if you wanted to tell your significant other that you loved them, you would have to, brace yourselves, write a handwritten note. It might sound like I'm being overly dramatic, but can you even remember the last time you made handwritten notes in class, much less wrote a handwritten letter?
Not only would they write their own cards, but they would also decorate the paper with hand-drawn hearts, love knots, and poetry. In fact, there was even literature available for the less creative ones, with detailed advice and instructions on how to select the right words and decoration for your letter.
As the years went by, people got more and more creative, and some even managed to personalise their cards with hand-cut shapes and colours.
In the 19th century, when the Valentine's Day card tradition made its way to America, greeting cards began being manufactured and commercially available. In 1913, Hallmark, the largest greeting card manufacturer in the United States, created their first Valentine's Day card and the rest is history.
Chocolate Covered Commerce
Approximately 36 million heart-shaped boxes of chocolate are sold every year in anticipation of Valentine's Day.
By the 1800s, Valentine's Day was already a well established annual tradition. Lovers were obsessed with gifting each other elaborate gifts and cards.
Richard Cadbury (yes that Cadbury) saw this as an opportunity to market his chocolate to the masses. Cadbury began selling their chocolate in extensively decorated, heart-shaped boxes. These included pictures and sculptures of hearts, cupid, and roses. The works.
Cadbury marketed this product as being multi-purposeful- you could gift your lover the chocolate, and then reuse the embellished box later. Thus began the heart-shaped chocolate craze.
Although it is widely accepted that Richard Cadbury created the first heart-shaped chocolate box, he never actually patented his idea, which is why we continue to see heart-shaped copycat chocolate boxes lining storefronts for the entire month of February.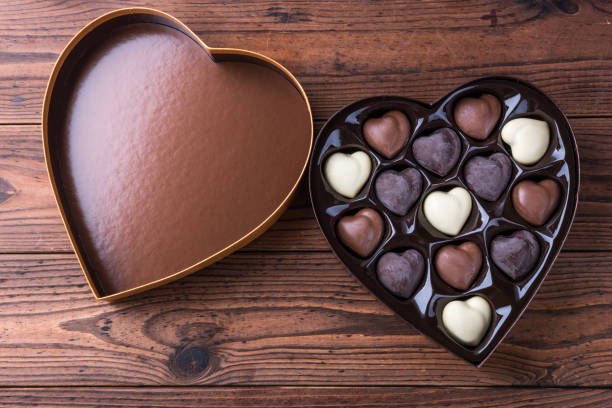 Roses Are Red, Valentine's Day Makes Me Blue.
In 2019, an economic analysis deduced that over 224 million roses are grown and sold worldwide for Valentine's Day.
I can't help but wonder- what did the other types of flowers do wrong? Why specifically roses?
Apparently when exchanging flowers on Valentine's Day became a tradition back in the 17th century, roses were specifically chosen to represent love. While it's carmine hue definitely has something to do with it, roses were actually said to be the sacred flower of Aphrodite, the Greek goddess of love, sex and beauty.
So for the story I'm about to tell you, it's very important to remember that in Greek Mythology, roses were always originally white. No other colours.
According to mythology, Adonis, Aphrodite's lover, was out hunting wild boar. Ares, the god of war and battle, sent a wild boar to harm Adonis.
Aphrodite soon discovered his plan, and rushed to the scene to save her lover. As she ran to Adonis' aid, she scratched herself on the thorn of a white rose and stained the petals a crimson red.
She's too late. She sees that Adonis has died from a fatal wound to his thigh. She then begins to cry uncontrollably. As her tears fall to the ground and mix with the blood on the white petals, every rose around her turns crimson red with blood.
Therefore, it is said that red roses are a symbol of romance, because they are white roses dipped in the blood of Aphrodite as she continues to mourn her lost lover.
Sweet…I guess?
---
Thank you for reading! I'm going to be a little less sarcastic (just this once) and say Happy Valentine's Day! If you already have your special someone, send this article to them!
However, if you're single like me, I have an idea. Let's all be each other's Valentines. Now, I know it's not necessarily possible for us all to send each other chocolate, flowers and greeting cards, but it might just make us a little less depressed. Right?
Comment your cheesiest pickup line in the comment section below.
You can check out my last few posts here:
Until Next Time.