Welcome back to 'The Confessions of a Random Blogger!'
So as you probably know, every few months I come here and I talk about my favourite movies and television shows that I've watched in the past few months.
It's sort of like a sarcastic cocktail of a recommendation list and a miniature film review all blended together.
Let's get started!
---
'Devil' (Available on
Netflix

)

Any film that involves M. Night Shyamalan is bound to be absolutely amazing.

'Devil' is a supernatural, locked-room, psychological horror film that explores themes related to religion, paranoia, redemption and sin.

It's sort of a modern reimagining of a classic tale. A group of people is forced into a locked space and is killed one by one to pay for their sins. The only question is– which one of them is the killer?
I might be wrong, but this reminds me of the Agatha Christie novel, 'And Then There Were None.' Published in 1939, the premise of this book is that a group of 8 people are called to a mysterious, deserted island by an anonymous invitation. They are then killed off one by one, with each resulting death resulting in increased paranoia in the remaining sinners. One of them has to be the killer.
This movie follows a similar concept. Five people are stuck in an elevator and executed one by one until only one is left. A team of police officers and security guards are on the outside watching this entire ordeal through a video camera; trying to force open the elevator doors.
It doesn't take long for them to discover that there is something far more sinister at play. Maybe it's someone else? Something satanic?
I absolutely loved this movie. It's one of those movies that really forces you to think. We don't really have too many of those anymore do we?
Not only are you trying not to shit your pants and figure out who the killer is at the same time; but you're also not planted to your seat for an eternity, since this film's running time is only 80 minutes!
A must watch.
---
'History of Swear Words' (Available on
Netflix

)

Narrated by Nicholas Cage (yes, that Nicholas Cage); this series explores the history, etymology and culture of a different swear word in each episode.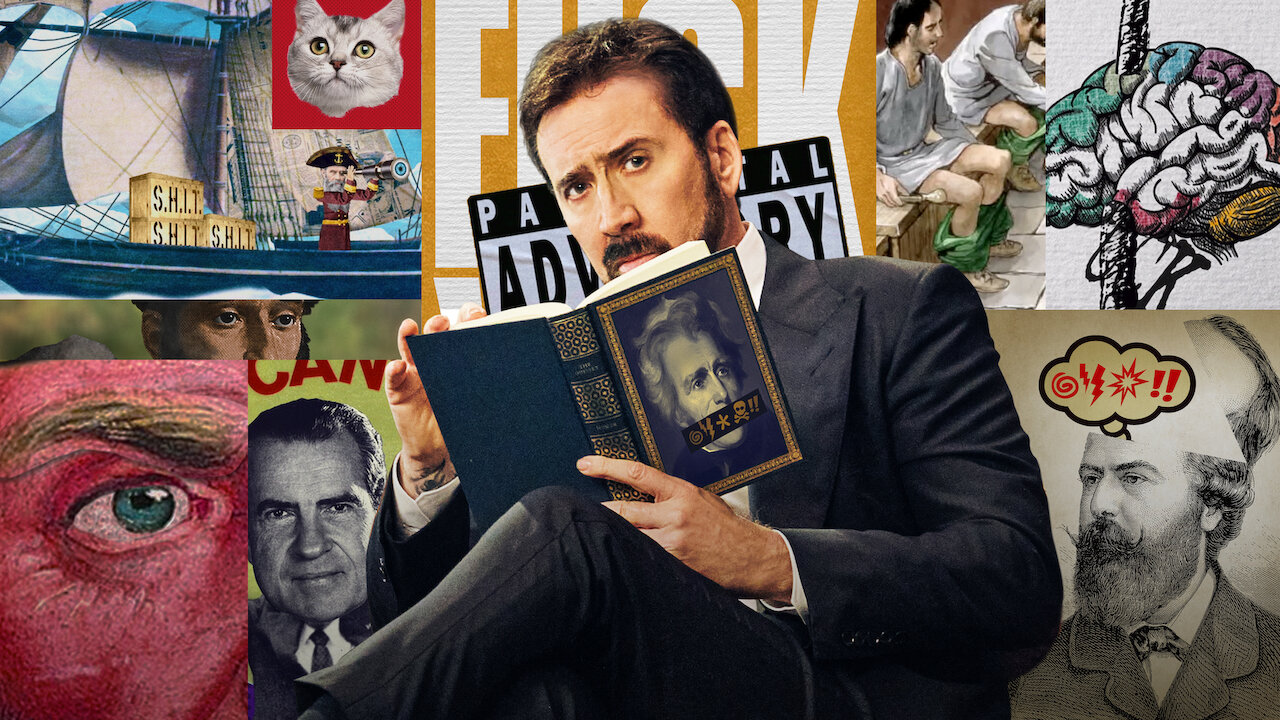 The best part of this show is that it's actually genuinely educational! What you're going to do with a deep and comprehensive knowledge of the word "fuck" (amongst others) is beyond me; but it's still extremely entertaining.
It's extremely vulgar in the best way possible.
---
'Room' (Available on
Netflix

)

'Room' is an indie drama film that details the tragic story of a kidnapped woman and her 5 year old son, who was born in captivity. We are introduced to their daily struggles of living in 'Room,' the garden shed of her kidnapper's house.

I can't tell you anything else about the plot. Sorry- no spoilers!
All I can really say is that this movie is extremely different from all the other typical kidnapping movies I've seen. First of all, the plot is actually based off of a novel, not a real story, which gives the story a little more opportunity for a happy ending.
This movie also gives you some insight into what it's really like for a child to be born into captivity. I mean, apart from the obviously tragic aspects of being held captive- the lack of food, water and medical care.
This movie is narrated by a child that has never even seen leaves, trees, or even other people outside of a television. He doesn't even know that they truly even exist.
He believes that his mother and him are the only real things on the planet. That the world begins and ends in 'Room.' Everything else exists only through the television screen.
A real tearjerker. However, not actually as depressing as I've made it sound!
---
Thank you for reading! Let me know if you've seen any of these and what you thought of them! While you're at it, comment your favourite movie/television show of the moment!
You can check out my last few posts here:
Until Next Time.